Angelina Jolie Arrives in Bosnia and Hercegovina Latest news from BiH...
Angelina Jolie Arrives in Sarajevo to Meet Victims of Bosnian War
Hollywood superstar Angelina Jolie, who has taken up various humanitarian causes over the years, has arrived in Sarajevo with British Foreign Secretary William Hague to speak out against sexual violence in war.
Tens of thousands of women and men were subjected to rape and other forms of sexual violence in Bosnia and Herzegovina between1992-1995. According to the latest OSCE findings, only 33 perpetrators of these crimes have been convicted at the State level whilst there have been only 30 convictions at the international level in The Hague. A serious backlog of sexual violence cases across the country makes survivors endlessly wait for justice.
Special Envoy for the High Commissioner for Refugees, Angelina Jolie said:
"We are here to meet victims of the war in Bosnia, female and male survivors of rape who carry a terrible burden. The use of rape as a weapon of war is one of the great injustices of our time. For too long the world has tolerated these crimes, and left survivors to struggle in the shadows. Our goal is to bring forward the voices of the survivors of these crimes and to ask the world to stand with them and against impunity."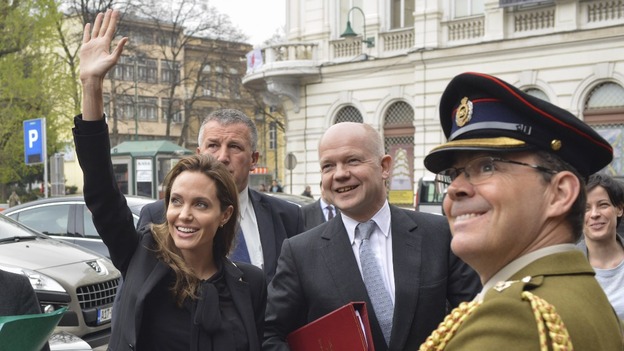 William Hague and Angelina Jolie attended this morning a Regional Military Conference in Sarajevo which brought together Ministers and senior military officers from the region to discuss the role of the military in tackling sexual violence. In his speech at the conference William Hague announced that the UK will support Sarajevo's Peace Support Operations Training Centre in developing new modules on preventing sexual violence that can then be integrated into their training courses for military and police peace-keepers.
On a visit to Srebrenica William Hague and Angelina Jolie met survivors of sexual violence who highlighted the crimes that took place alongside the genocide. They also met Mothers of Srebrenica and Srebrenica Mayor Ćamil Duraković. William Hague announced £800,000 of support to the 'Remembering Srebrenica' initiative, aimed at ensuring the terrible events of 1995 are not forgotten.
The visit continued with a visit to NGO Medica in Zenica which helps women across Bosnia to rebuild their lives after sexual violence. Medica provides a range of support to women across the country, including livelihood support through their hairdressing salon and sewing workshop, as well as providing a safe house for women and their children.
William Hague and Angelina Jolie met judges and prosecutors at the State level with whom they spoke about challenges that the judicial system faces in dealing with the backlog of war crimes and the risk of justice not being done or seen to be done.
photo source : klix.ba
---